Snowboard set Hatchey SPR + SP FT 270 + Head Scout LYT Boa
Pack content
full woodcore
triaxial laminate
ABS sidewall
steel edge Rockwell 48
extrudet base
rocker
lenght 145, 150, 155, 160, 160w, 163, 170
| Lenght (cm) | Width (mm) | Radius (m) |
| --- | --- | --- |
| 145 | 288 - 248 - 288 | 7,5 |
| 150 | 291 - 250 - 291 | 8 |
| 155 | 294 - 253 - 294 | 8,7 |
| 160 | 297 - 255 - 297 | 9,3 |
| 160w | 314 - 268 - 313 | 8,3 |
| 163 | 299 - 257 - 299 | 9,4 |
| 170 | 305 - 260 - 305 | 10 |
Data sheet
Kind of goods

Snowboard

Gender

Unisex
The FT270 is an easy and soft binding for beginners and intermediates on a budget. With a light and forgiving setup, this is your ticket to a world of fun. Follow the FT270 through the rabbit hole and make your first attempts on the slopes and in the parks.
---
ft4 base
basic highback
3D ankle strap
light toe strap
Size Chart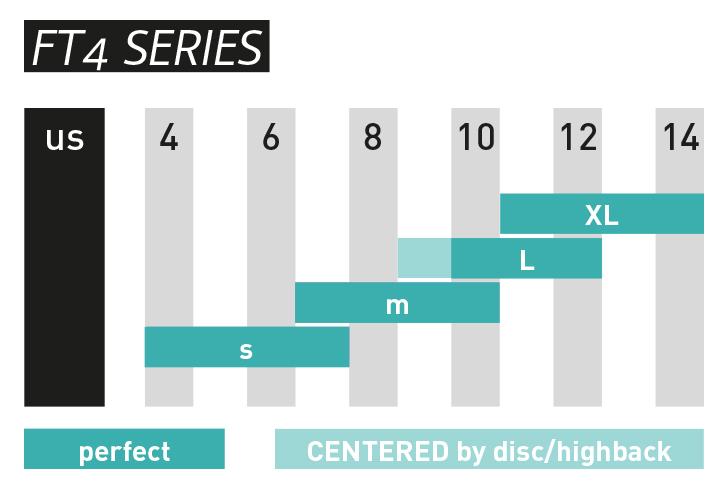 Data sheet
Kind of goods

Snowboard Binding

Gender

Men's
The SCOUT LYT is amongst the lightest boots on the market – for more fun on snow! The new construction offers a comfortable, forgiving boot in which it is just simply fun to ride in. Although light in weight, the sole is very grippy and has outstanding dampening performance. Boa® offers a hassle-free lacing of the boot – no more fumbling with frozen laces in the cold! The liner of the boot is heat-moldable and can be customized to your foot.
---
BOA - The Boa® lacing system allows a boot to be fastened with the turn of a dial and loosened in a snap: No more fumbling with laces in the cold. 
LYT TECH - Lighter products help to you to enjoy yourself longer on snow. By focusing on the essentials, we are able to provide you with gear, which is light in weight but extraordinary in terms of performance and design. 
PERFECT FIT - The floating webbings on the Perfect Fit Liner construction provides a close, comfortable fit with ultimate lacing performance. 
Injected Heel Section - A plastic injected heel cup protects the boots from heavy wear that is common in rental operation and offers additional foot support. 
Flylite Outsole WMN - The Flylite WMN represents the zenith of lightweight, comfortable soles. Weighing only 64 grams it features serious shock-absorbent EVA cushioning and a full-grip profile.
COMFORT CUF - The Comfort Cuff delivers added flex on the medial side of the boot for added comfort and a more natural flex. 
S.Café® Lining Mesh- S.Café® fabrics feature extraordinary odor control and fast drying properties. This is achieved by incorporating real coffee grounds into fabric, by using the sustainable S.Café® technology. S.Café® fabrics absorb and transport moisture from the body to the outside – resulting in a close to 200% faster drying time compared to cotton! 
FPG Insole - The 3D FPG Insole features a cupped heel and ergonomic arch for maximum support for the whole foot. 
Flex Index 6 - Comfortable & responsive flex.
Forward Lean 7° - For rookies and easy riders. 
Size chart:
| | | | |
| --- | --- | --- | --- |
| MONDO | EUR | US MEN | US WOMEN |
| 24.5 | 38 | 6.0 | 7.5 |
| 25.0 | 39 | 6.5 | 8.0 |
| 25.5 | 39.5 | 7.0 | 8.5 |
| 26.0 | 40 | 8.0 | 9.0 |
| 26.5 | 41 | 8.5 | 9.5 |
| 27.0 | 42 | 9.0 | 10.0 |
| 27.5 | 42.5 | 9.5 | 10.5 |
| 28.0 | 43 | 10.0 |   |
| 28.5 | 44 | 10.5 |   |
| 29.0 | 45 | 11.0 |   |
| 29.5 | 46 | 11.5 |   |
| 30.0 | 46.5 | 12.0 |   |
| 30.5 | 47 | 12.5 |   |
| 31.5 | 48 | 13.5 |   |
Data sheet
Kind of goods

Snowboard Boots

Gender

Unisex